NAME
the white visitation intelligence research worldwide
Collaborative art project on art and artificial intelligence with Manuela Burghart
from 1991 - 1995. Frankfurt/Vienna.
SYNOPSIS
Error. Automatic enviroment checked. No comment possible at that time.
EXAMPLE
Current PARADIGMAs

Choose from LIST

nobody escapes, nobody ever escapes, hip-hype-hope, compelling images, connexionism, paradigma claim, meta script, procedure error, less is a possibility, fakism also, simulate yourself, press your I.Q., erotize intelligence, mental ground zero, splish-splash, splish-splash

Manuela Burghart & Stefan Beck
( )
"I want to help somebody after my death."
PICTURE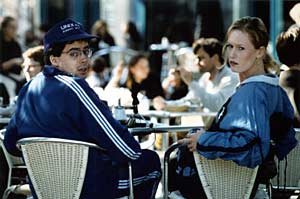 The White Visitation is a silent project, but we´re often disturbed by unwelcome papparazzi!
SEE ALSO

Unsere deutschsprachige Brochüre "release/relax/relate" als PDF.
We are working on an extension of this site. See more on Manu's TWV Page
If the page has been accessed without any reference you may have a look at other Stefan Beck projects:
<! -- Ende Div Content -->